Sometimes you come across a photo on the internet and you think to yourself 'wow, that place looks absolutely amazing'.

We had that we saw a picture of 5.8, Hurawalhi's star restaurant which is the largest all-glass undersea restaurant. When we were preparing for our trip to the Maldives we found out that the resort we would be staying at, is across from Hurawalhi and 5.8. We saw this as a sign from the universe to finally check off an item on our bucketlist: eating underwater!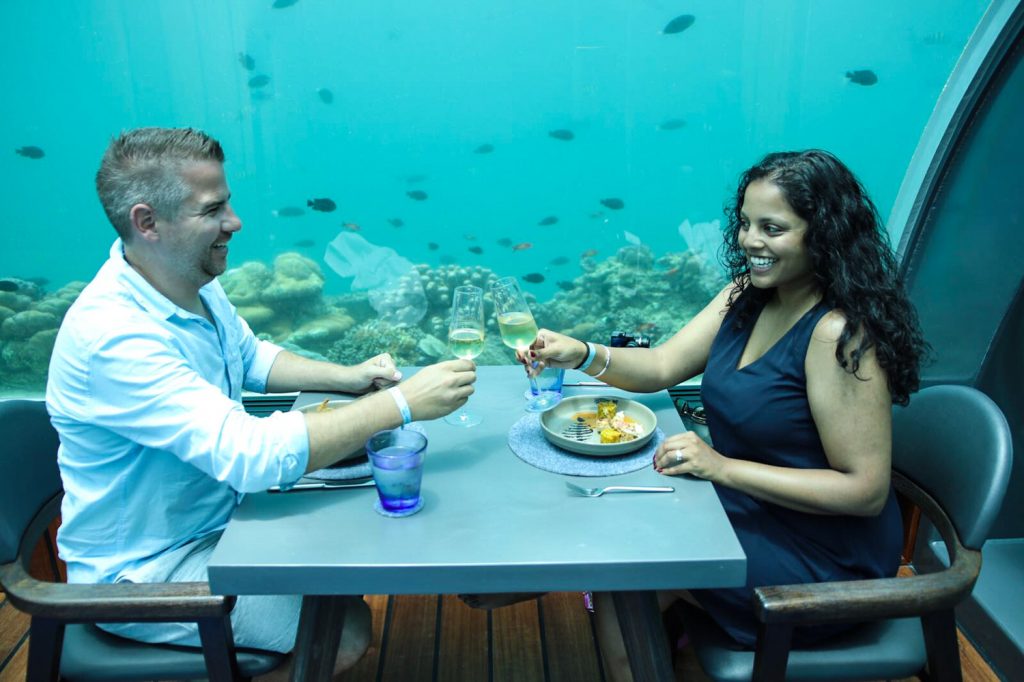 5.8 is absolutely breathtaking. Not only are the views one in a million, but the food resembles gastronomical heaven! Everything from your welcome cocktail to the last course is incredibly thought through. The chef is a master in pairing food and wine, making 5.8 the ideal place for foodies who love underwater life.
We went to 5.8 for lunch. When we arrived at Hurawalhi we were overwhelmed by the complete tranquility and beauty of the island and resort. Even though they were fully booked at the time, we felt like we had entered a deserted island. Even the walk towards 5.8 is like something from a dream. Everywhere you look you'll see the bright turquois water. The moment we finally arrived in the restaurant, the view just took our breaths away: we were finally here, a very once in a lifetime destination that should be on everyone's bucket list!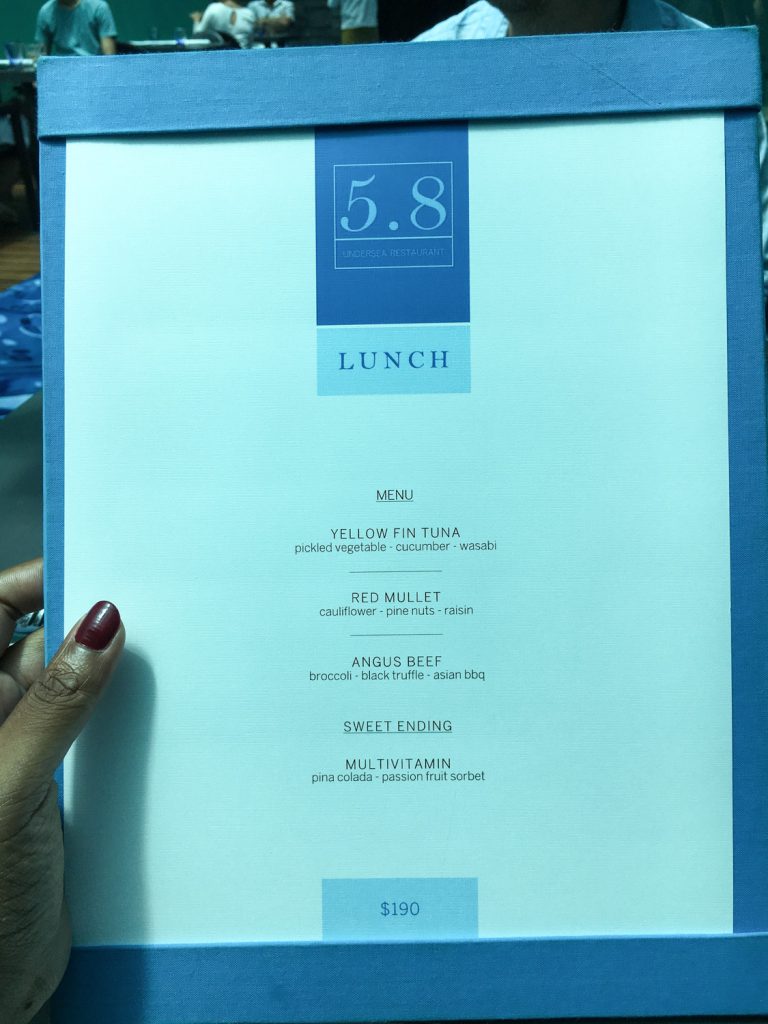 The lunch is said to be 4 courses but we were pleasantly surprised when we received 6 courses. Each course can be paired with wine. We did not do this because 6 glasses of wine would be a little too much for us 😉 but we heard from other guests that the wine pairings were phenomenal and really complemented the food.
We started with a 'snackbox' which consisted out of 4 appetizers. This was one of the courses that was not listed on our menu. Like every course the presentation was absolutely beautiful. The snacks actually came in a beautiful wooden box and each of them were absolutely delicious. There was a salmon spring roll, a bruschetta, a mini lobster merengue roll and a mini tuna cake which was decorated with edible gold. Talk about luxury!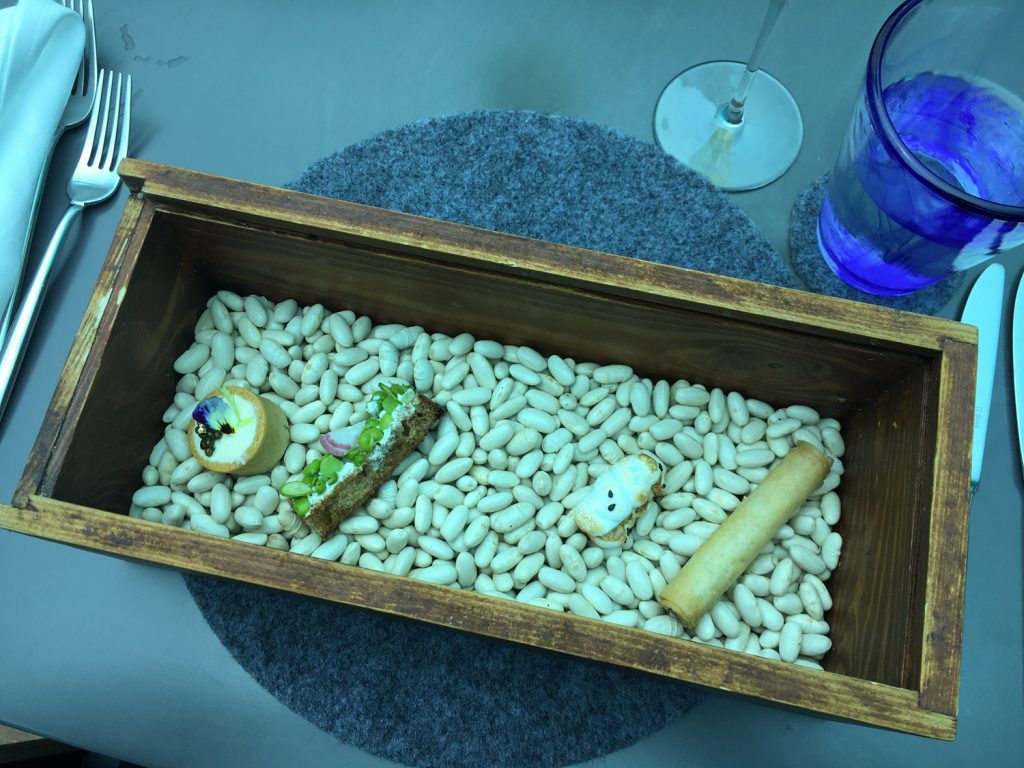 The next course was yellow fin tuna. Obviously the fish tasted super fresh. Everything was caught just hours before we arrived. The third course was red mullet and we absolutely loved the presentation. This course had an entire different style and flavor from the previous one but was very delicious as well. We loved that between the courses we had a chance to chat and take photos of the amazing restaurant and all the fish that swam by. When we booked our lunch we were a bit worried that we didn't have enough time to enjoy the ambiance but luckily this was not the case.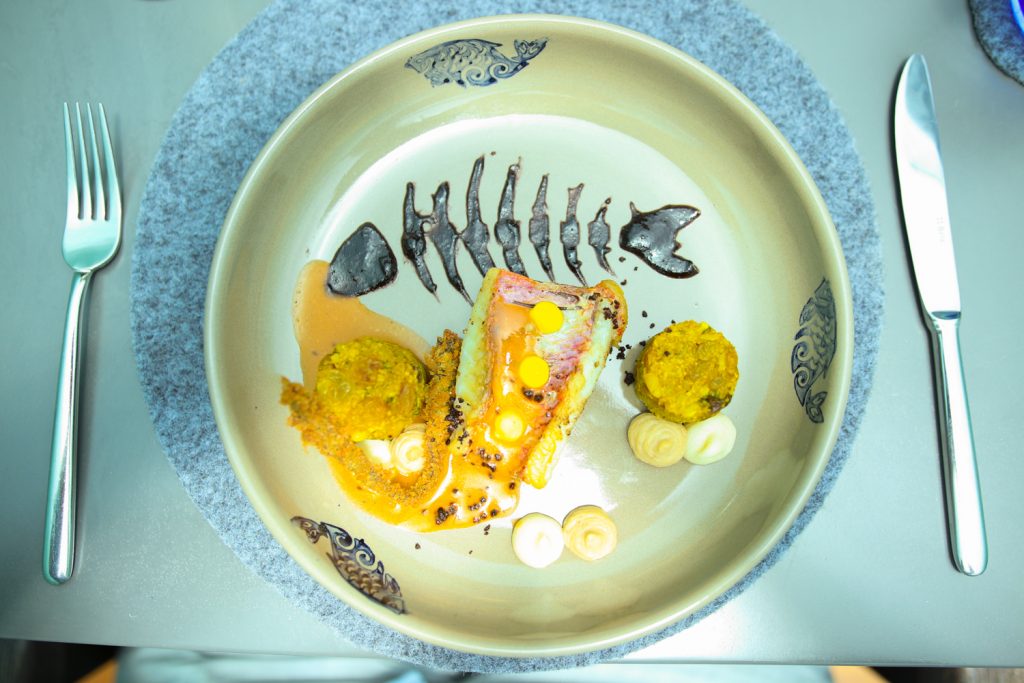 The fourth course was a little different since this was a dish without fish. It was a Asian bbq angus beef. However, if you don't like or eat beef you can be served sea bass instead. After the chef had checked back with me that I wanted the sea bass for our next course he quickly returned with the news that they ran out of seabass. The waiter apologized and asked me if it was ok if they got me lobster! I started laughing and told him that lobster would be even better. So as Ranald ate his Angus beef (which according to him was perfection), I was thankfully beaming while devouring my fresh and super tasty lobster in this amazing restaurant.
Course number five was one of two desserts. By this time we were beginning to get a little full but for us there is always room for a little dessert! The first dessert was another course that was not listed on our menu. It consisted out of a baileys truffle with a chocolate macaron and praline cake. Absolutely scrumptious and just enough to satisfy a chocolate craving. Our last and sixth course was called 'multivitamin' a gorgeous arrangement of passion fruit sorbet with pina colada.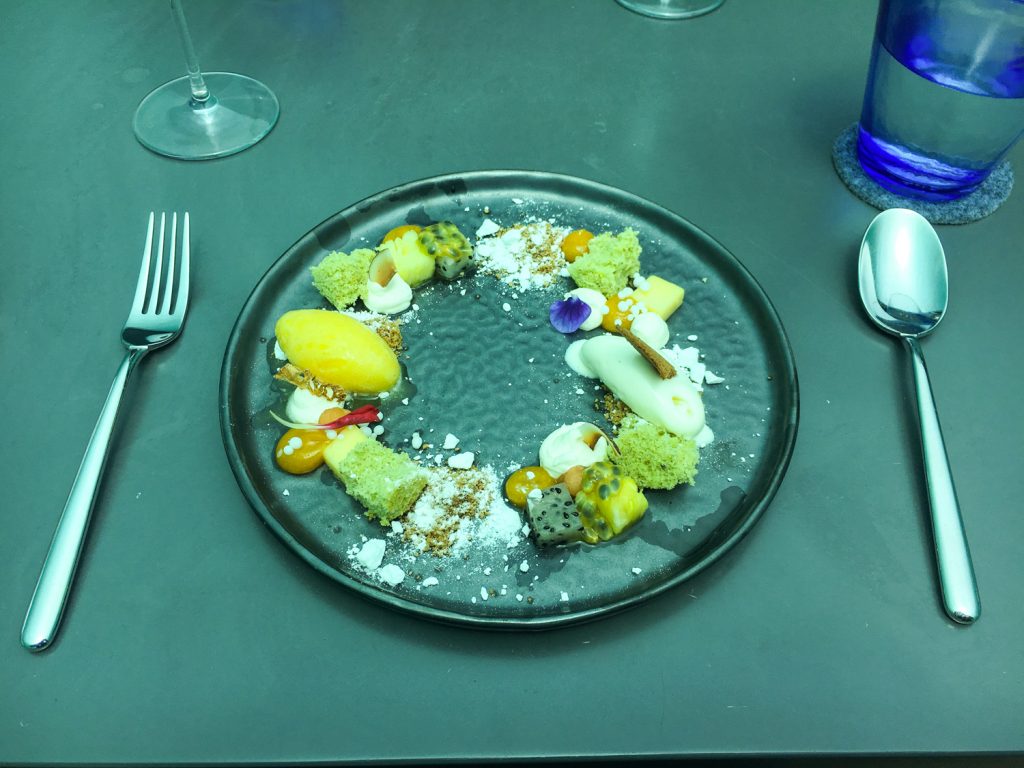 Even though it looks like the food is very little, after 6 courses we were stuffed! And usually when dining with multiple courses we both have a course that was our favorite, but at 5.8 we could not choose just one. Everything was an absolute joy for all senses and we cannot think of anything else that would make our lunch at 5.8 even more memorable. If you want to see more of 5.8, check out the video that we made of our experience.
Eating at 5.8 was an absolute dream and something definitely worth splurging on. We hope that we will have the pleasure of returning to 5.8 undersea restaurant once more.

Click here to see our experience at 5.8 undersea restaurant on Youtube.
PINTEREST