The first time we visited the Maldives we immediately fell in love. We had considered going to Kuredu that time but in the end we chose a different resort.

When we spoke to people who stayed at Kuredu on our flight back home, they were raving about this resort. Right there we decided that the next time we were going to the Maldives we would stay at Kuredu. And that time finally arrived last fall.
Location:
The resorts is located on the Lhaviyani Atoll. Fun fact: the island has its own 'island time' assuring guests that they have more daylight to enjoy their vacation. (from 7-7 instead of 6-6). When we arrived at Male airport we were welcomed by the Trans Maldivian Airways crew who took us on a seaplane to get to Kuredu. Kuredu even has their own lounge at Male airports for their guests making the wait a lot more relaxing. The seaplane flight was an absolute dream and another thing we could check off our bucketlist. The 35 minute flight was over before we knew it.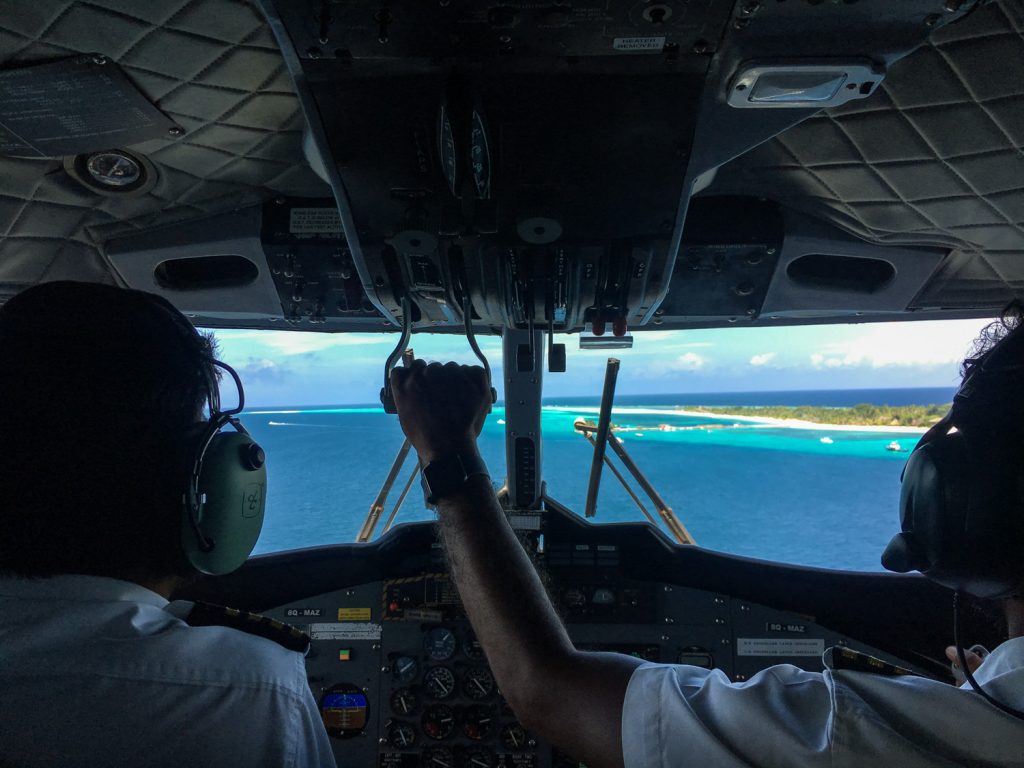 The room:
At Kuredu we stayed in an 'O beach villa' and in our opinion this is the best accommodation to choose from at Kuredu if you are staying there as a couple. We loved that we had our own little deck with our own little piece of beach. The location of the villas was good as well, we were right between 'O resort' and 'main resort'.
If you want to see more of our room and the resort be sure to check out our YouTube video on Kuredu.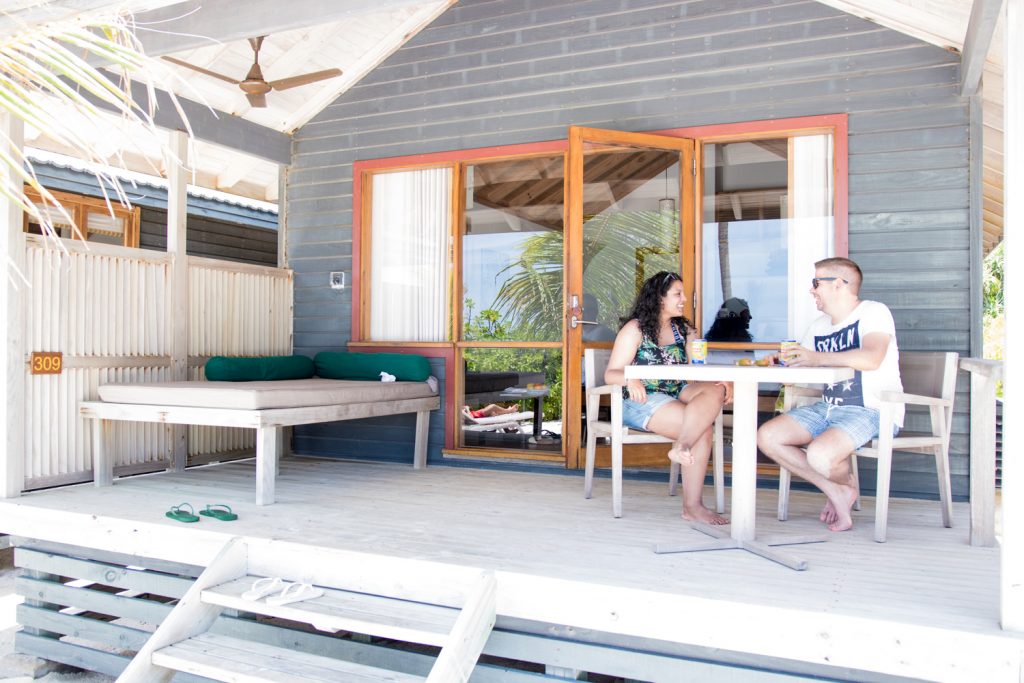 The facilities:
The entire island is the resort. You won't be able to visit the main island but you won't have to. The resort has everything you need. A shop, a doctor, an ice cream shop, 3  regular restaurants, 4 buffet restaurants for guests on a meal plan or all-inclusive and of course several bars. When you feel the need to treat yourself to some relaxation time you can get a treatment at one of the two Spas. We had a treatment at the O Spa and during our massage we could see the fish through a window in the floor. Such a fun detail!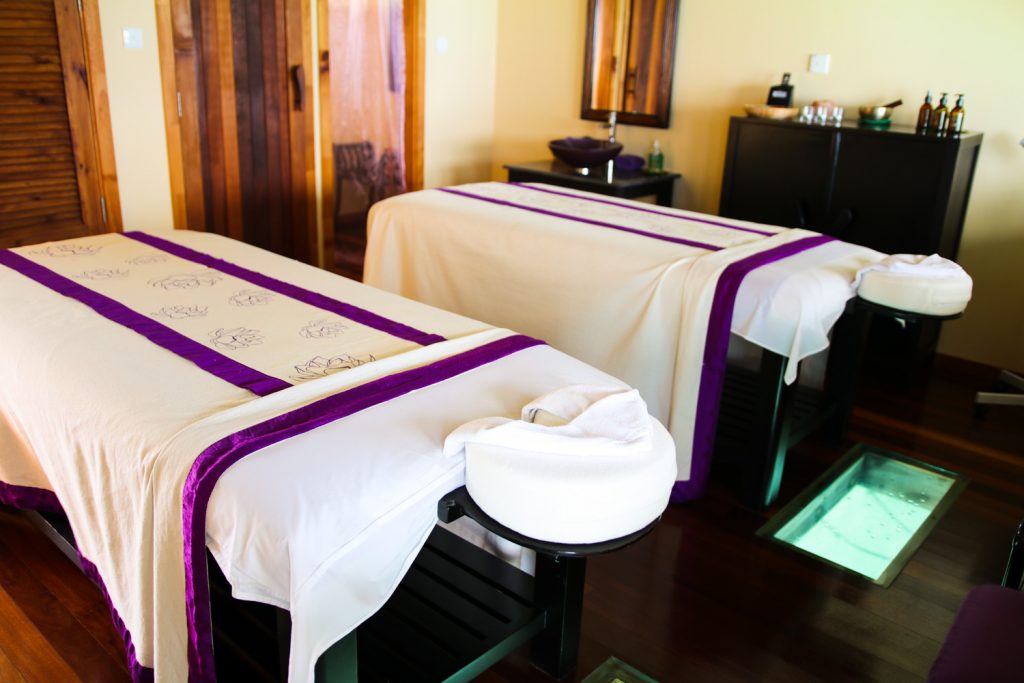 If you want to do something a little more thrilling you can check out the activities at the Ocean Watersports center. What we really liked about Kuredu is that they have golf carts riding on the island which can take you to wherever you want to go. If you are on the north side of the island, but you want to go to the pool on the south side, you won't have to walk for 20 minutes in the hot sun. Just get a golf cart. After all: you are on vacation in the Maldives, you should relax!

We found out that the island can be divided into 3 sections which are called 'main resort', 'Sangu resort' and 'O resort'. Each 'resort' has their own reception, gift shop, restaurant, bar and pool. At the time that we visited Kuredu the 'O resort' pool was under construction. Luckily we were able to enjoy the other pools. Note that if you are planning a trip to Kuredu with children you are not allowed to stay at 'Sangu resort' since this is adults only. But there is a kids club that is being developed on the island near the small kid's pool, making sure that there is a part which is very child friendly.
The snorkeling is very good at Kuredu. Right in front of the main resort's pool there is a big patch of sea grass housing multiple sea turtles. It was such a magical moment the first time we encountered a sea turtle. He was so big and beautiful and calmly kept eating the grass while we were gawking at him. This was the first time we saw sea turtles in their natural habitat and we saw a turtle each time we snorkeled. One time we encountered 4 of them at a time! We also saw big schools of fish and big fish in multiple colors. Snorkeling is one of our favorite activities so the abundance of underwater life so close to the shore gives Kuredu extra points.
Food:
The food was absolutely amazing and there were so many options to choose from. We stayed on an all inclusive meal plan. Breakfast, lunch and dinner were all buffet style but there was a live cooking station that had different specials every day. All inclusive also included a ton of beverages and cocktails! There were some a la carte restaurants on Kuredu as well which you can visit if you want to switch things up. We didn't visit them because the food on our all inclusive meal plan was so good and they had something different every day.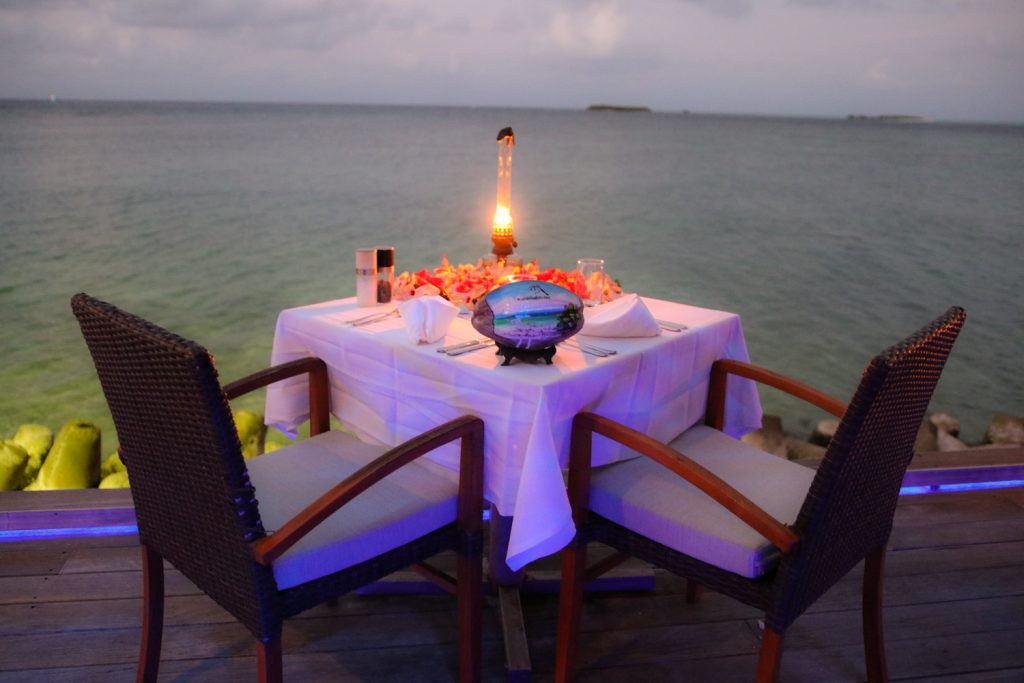 Other rooms:
We got to see some other rooms that Kuredu has to offer. Our favorites were the overwater bungalows and the O beach bungalows. The overwater bungalows have an amazing location, right near the sandbank! A great spot where you can watch the sunset. The O beach bungalows were very big and had the beach and ocean right in front of the bungalow. If you are travelling with a family and want to be a little more isolated a private pool villa Is a great option. That way you'll have your own pool and your room is very secluded.
Likes:
Snorkeling with sea turtles
Beautiful and spacious rooms
Friendly staff
Seaplane ride to get there
Amazing food at the restaurants and so many options to choose from at the bar
Complimentary sunset cruise
Dislikes:
The Sangu pool is only available for guests staying in the Sangu villas. This infinity pool is definitely a beautiful place to relax and it's too bad that not all guests can enjoy it.
Sangu and O resort restaurants are adult only. As a young married couple this is something that we pay attention to. In the future we will have a family of our own and returning to Kuredu will not be the same with a little one. However, we are keeping our fingers crossed that this will change in the future since they are also building a kids club.
In conclusion:
The service and amenities of Kuredu are outstanding. We liked that the resort was big, that way it didn't feel too crowded and there was always something to do. Snorkelling with all the sea turtles was amazing and definitely something that was on our bucketlist. The food was some of the best food we had ever had at a hotel and there were so many options. We just hope that in the future a smaller portion of the resort will be adult only so we can go back once we have kids.
Final score: 9/10
Click here to see our experience at 5.8 undersea restaurant on Youtube.
PINTEREST