Our trip to Curacao wouldn't be complete without taking an excursion or two. Curacao is known for its beautiful beaches and the brightly colored Handelskade.

But there are so many more activities you can do on this diverse island with the help of Touracti. Touracti provides numerous excursions on Curacao varying from active trips like ATV off road trips to relaxing boat trips. Touracti invited us to join them on 2 of their bestsellers: a trip to klein Curacao and a snorkeling trip. Both excursions exceeded our expectations and here's why you should definitely book these on your next trip to Curacao.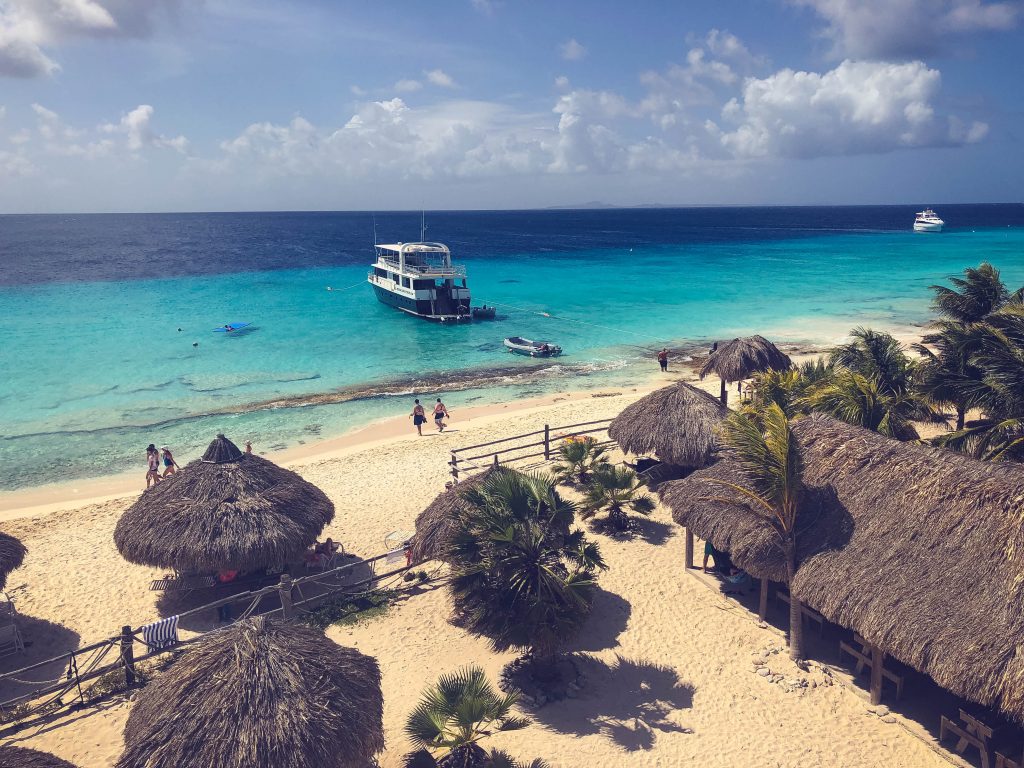 Klein Curacao:
This boat trip started early, we were picked up by a limousine (how fancy) which brought us to the harbor. After a 1.5 hour trip we arrived on the idyllic island of Klein Curacao where we were welcomed by crystal blue water and a really good breakfast! After breakfast we were allowed to do whatever we wanted, as the crew said 'the island is yours today!'. The great thing about this trip is that the crew has a little building on the island where you can sit in the shade, the food and drinks are served (you could get complimentary beverages the entire day) and there are even restrooms.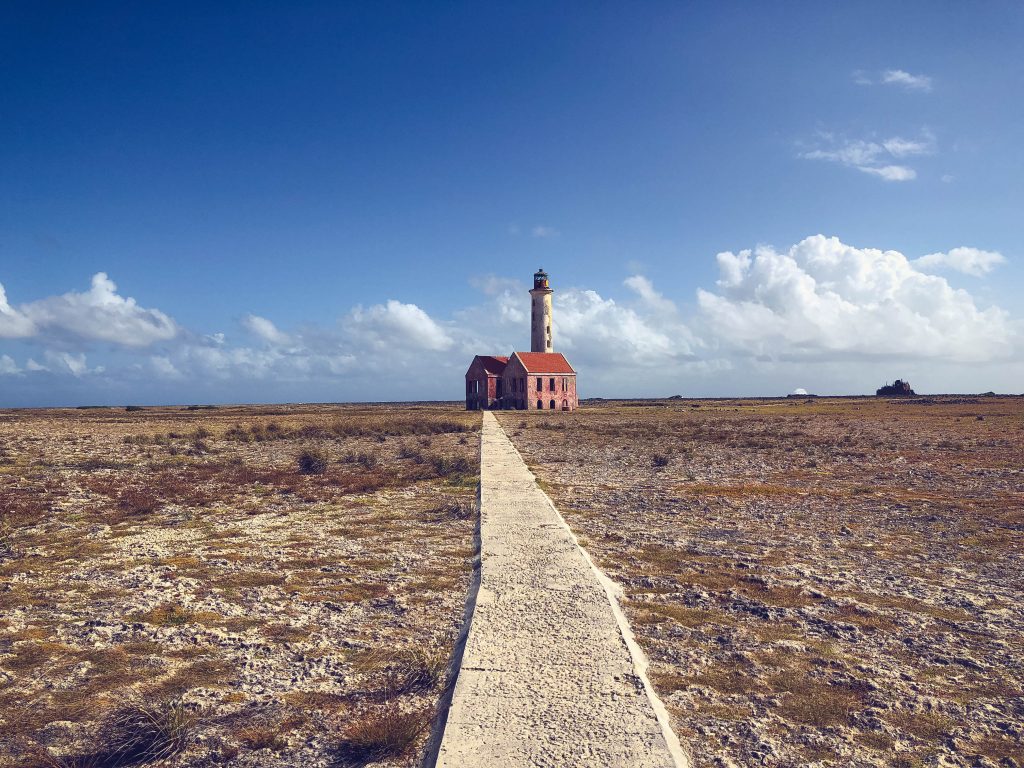 We started by exploring the island and walked to the deserted lighthouse on the middle of the island. On the way we encountered a few lizards and enjoyed the tranquility. The lighthouse is the perfect setting for an Instagram photoshoot: absolutely gorgeous and still accessible. After that we took a quick dip in the turquoise blue water. The water was incredibly clear so we quickly got our snorkeling masks. Good thing we did, because we spotted several colorful fish and even some turtles.
Around 12.30 it was time for a BBQ lunch. The food was outstanding and there were so many options to choose from. After lunch the crew alerted us to get out our snorkeling gear because it was time to feed the fish! As the leftovers from breakfast were tossed in the water, we were surrounded by beautiful fish and turtles. A very cool experience!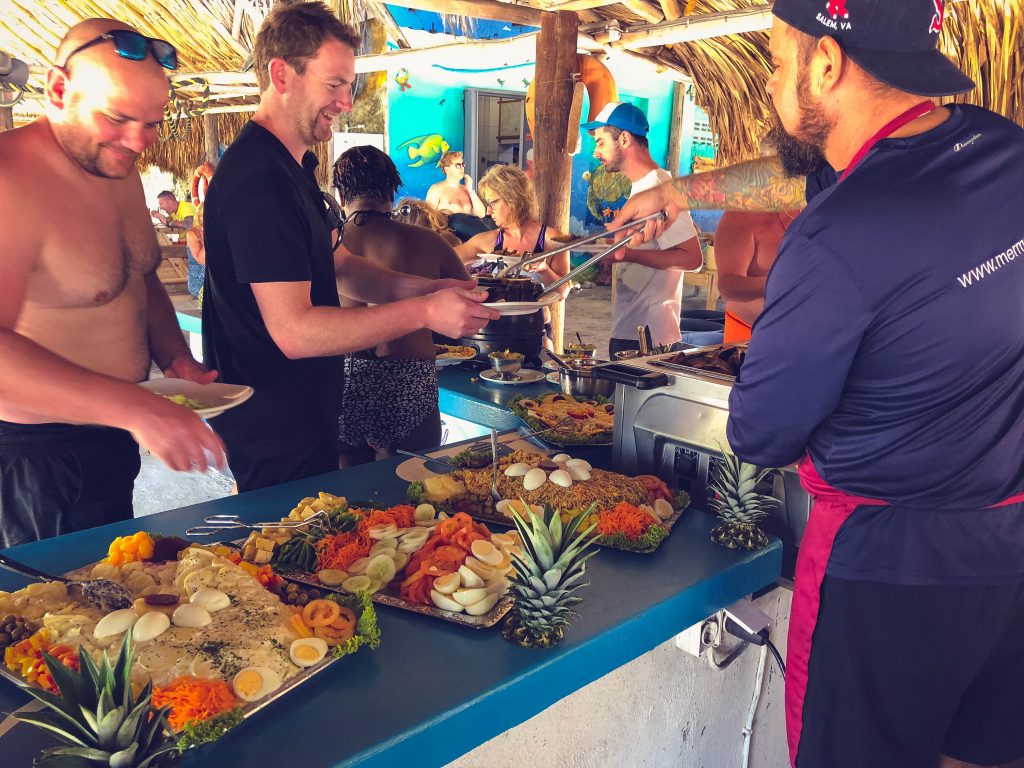 After some more snorkeling and enjoying our time on the beautiful island it was time to go home. On our way back to the harbor of Curacao we were greeted by some dolphins and we promised ourselves that this would not be the last time we would visit Klein Curacao! To book this trip click here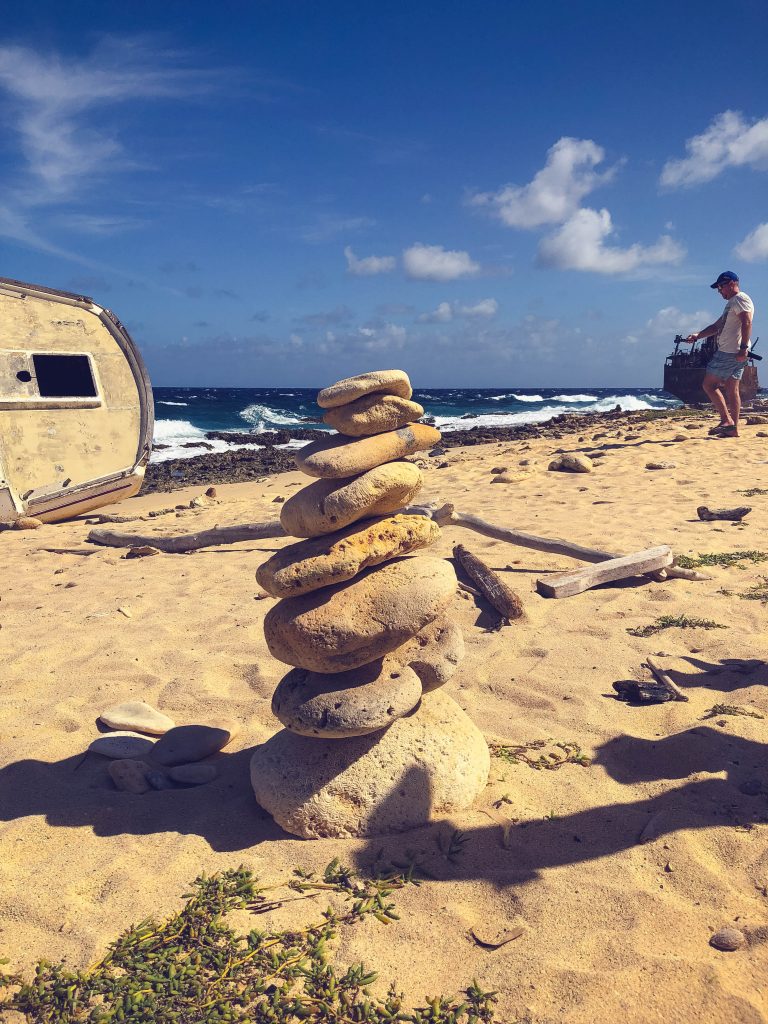 Snorkeling boat trip:
Our second trip with Touracti was another great one. We did this trip the day after we arrived and it was the perfect way to start off our time in Curacao. We were still a little jetlagged but this trip was perfect to chill, relax and see Curacao from the sea. We had to meet at Jan Thiel beach, which was 5 minutes from the resort we stayed at.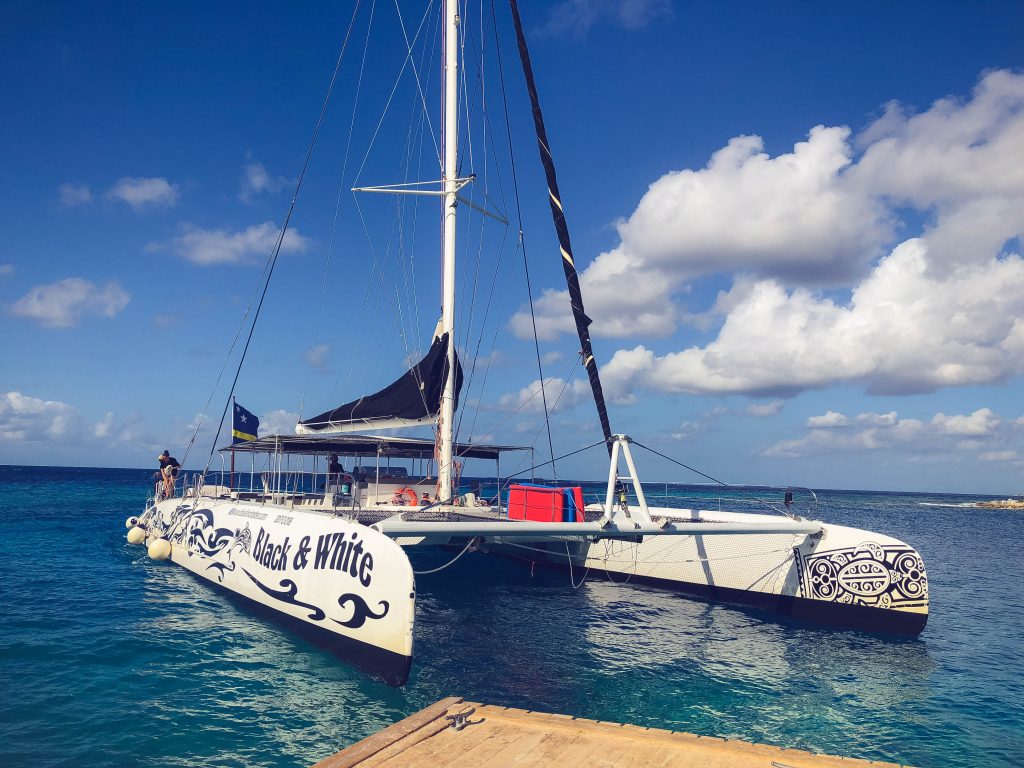 Around 10 o'clock we finally saw the impressive catamaran come towards us and it was time to board. After some instructions and information about program, the music was turned on, drinks were served and we were off! At our first stop we were told that we might spot some dolphins. As huge dolphin lovers we were super excited and kept our fingers crossed that these majestic animals would pay us a visit. They did!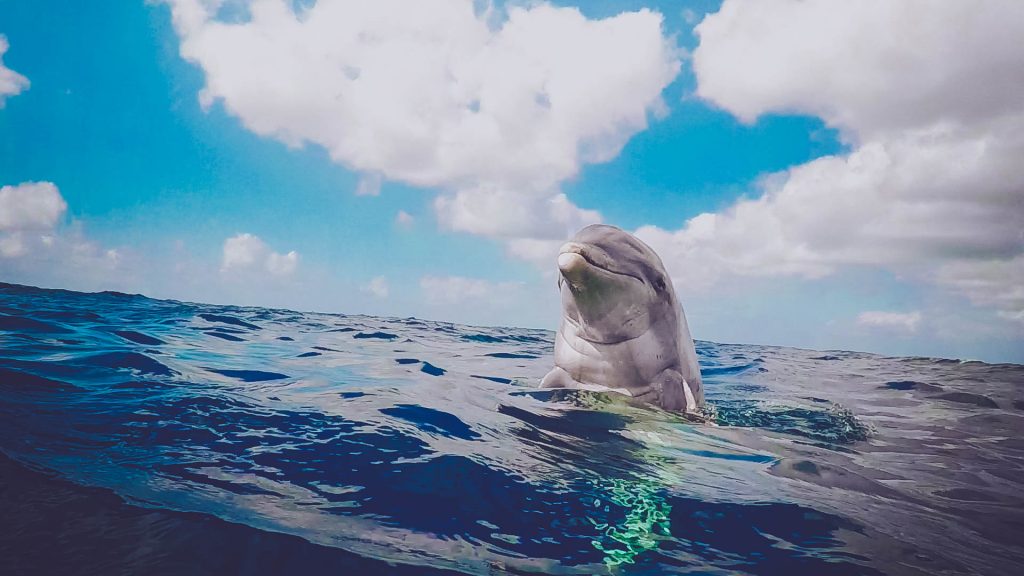 We were allowed to go in the water with our snorkeling masks to watch the dolphins do their thing from up close. It was a beautiful experience to be this close to the dolphins in their natural habitat. They gave us a little show and swam really close by a few times. Definitely an amazing experience! After our encounter with the dolphins we went to our second stop which was the 'Tugboat'. At this very well-known snorkeling spot there is a sunken tugboat which houses the most beautiful fishes! One of the best snorkeling spots we have ever been! After snorkeling for a bit we got back on board and went to a gorgeous and serene bay where it felt like we were the only ones in the world.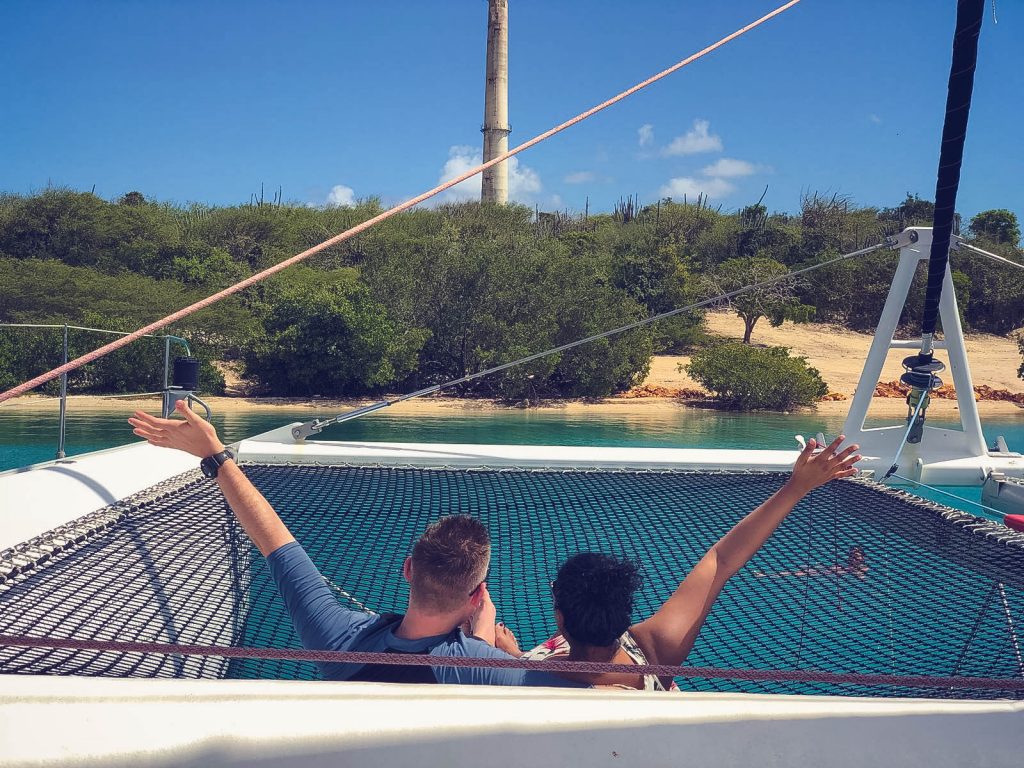 We swam a little bit in the most beautiful blue water, enjoyed the sun and relaxed! In the meantime a BBQ lunch was prepared for us. Perfect! Around  2.30 we sailed back to Jan Thiel Beach. A very luxurious and relaxing way to start of our trip, we will definitely book this trip again the next time we are in Curacao! To book this trip click here.
A big thanks to Touracti for taking us on these amazing trips. If you want to see what other excursion Touracti provides, check out their website. They also offer various excursions in different countries so even if you are not going to Curacao anytime soon be sure to check them out!
PINTEREST