We absolutely love snorkeling. It is our favorite activity on vacation and we even sometimes pick our next travel destination depending on how good you can snorkel there.
We always had a 'regular' snorkeling mask but a few months ago we discovered the Easybreath snorkeling masks by Decathlon. Decathlon is a store that sells everything you need for any sport you can imagine. They have stores in 38 countries. We were lucky enough to be able to put this new snorkeling mask to the test in the Maldives. Read on to find out if the Easybreath should be an essential on your next snorkeling trip!
The look:
The first thing that stands out when you see the Easybreath snorkeling mask is the panoramic field of vision. It is also bigger that a regular snorkeling mask which enables you to breathe through your nose! The fact that you can breathe through your nose makes snorkeling so much easier! The Easybreath is suitable for children from the age of 10. You can get the mask in three colors: blue, turquoise and pink and in two sizes: s/m and m/L.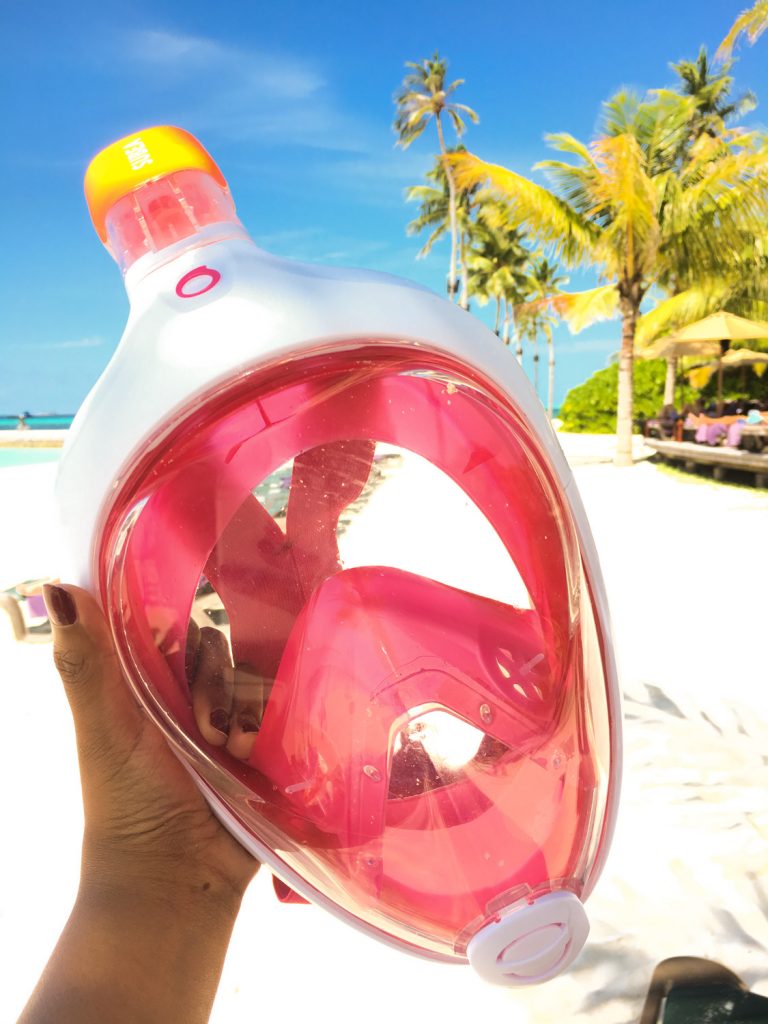 What makes this snorkeling mask different?
Subea (a brand by Decathlon) claims that this snorkeling mask doesn't fog up making sure you'll get a crystal clear view at all times. This was something that we were very curious about. Our old snorkeling masks did fog up frequently so we had to stop snorkeling to clean our mask which was such a hassle. An adjustable strap made from textile makes the mask easier to put on and they even claim that it does not pull your hair out. This is something that used to happen a lot to Chalana's hair with her old mask, so we definitely checked to make sure that this would not happen with the Easybreath.
Our experience with the Easybreath snorkeling mask:
Thanks to the panoramic field of vision and the possibility of breathing through your nose, it's never been easier to discover the underwater world than with the Easybreath. The mask did not fog up and we always had a clear vision underwater. The mask is also very easy to put on and no water came in. The only thing that we didn't like about the Easybreath is the effect the dry-top system stop had. This system is developed to stop water from getting into the snorkel. When that happens not only water will be stopped from getting into the snorkel, it also means that no air will come in. The first time that happened to us it really scared us because while snorkeling all of a sudden the mask went vacuum on our face and we couldn't breathe. We quickly put our heads above water and lifted the mask from our face, after that we could continue snorkeling. So keep this in mind so you won't be as startled as we were the first time this happened (there were choppy waves which caused water to come into the snorkeling pipe). Just stay calm, get you head above the water and lift the Easybreath from your face.
If you want to see more footage of our snorkeling trips including all the pretty fish and turtles we saw underwater, be sure to check out our Maldives video on our Youtube channel.
Our score
8.5/10
The mask is super easy to use making snorkeling an activity for everyone and the clear field of vision that doesn't fog up is a big plus as well. The only thing preventing the Easybreath from getting a higher score is the dry-top system. It's good that no water will come in, but having no air coming in for those few seconds was very scary.
PINTEREST